LinkedIn: Sales Development among top 5 fastest growing jobs
11 Dec, 2017
3 Minutes
LinkedIn have just published their annual emerging jobs report and while almost half are in ...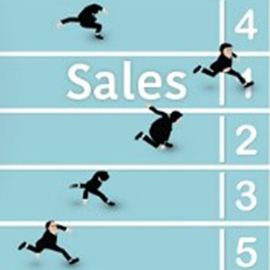 LinkedIn have just published their annual emerging jobs report and while almost half are in tech and IT fields as you'd expect, 50% are in sales and related roles. This means despite the headline-grabbing STEM shortage, soft skills are in just as much growing demand as technical skills.
Top of the titles on the list is the familiar Sales Development Representative, which has grown 5.7x in popularity since 2012. Others in the list are a little more creative in title; from Customer Success Manager (a sales function focused on tech) to Head of Partnerships. Several of the roles are rooted in customer service and marketing but still feature sales skills as one of their key requirements, making it the second most in-demand skill among these 20 growing roles.
Alongside sales at the top of the required skills list are management and communication, making soft skills in greater growing demand than technical skills. What's clear from the results is that sales and customer service roles are closely related, with sales named as a key skill for customer service roles.
'The number of customer experience roles that made the list indicates that the "age of the customer" was more than jargon. These jobs are among some of the non-automatable jobs on the market today… they rely heavily on soft skills.'
LinkedIn also looked at the employment history behind these emerging roles, which goes further to show the overlap of sales and customer-based roles. Among the previous jobs held by Customer Success Managers are Account Manager, Project Manager and Sales Manager. Similarly, Sales Development Representatives had commonly held previous roles including Account Manager, Sales Associate and Customer Service Representative.
Hiring in the US has been more than 10% higher in 2017 than 2016. While the continuing growth and evolution of tech clearly explains the increase in IT roles, the growth in sales and customer-facing roles is harder to pin down.
The prevalent theory is that advancing technology has transformed customer behavior. This something we've been talking about for some time and is well backed up by a Salesforce survey of 7,000 consumers and corporate buyers.
'Connected customers' demonstrated that the marketplace is now controlled by information-savvy consumers, who have come to expect a greater level of service and slicker purchase process. Consumers now feel more empowered, with 61% agreeing that technology is redefining their behavior and 71% saying it makes it easier for them to take their business elsewhere. 80% of business buyers go so far as to expect real-time interaction with providers, which naturally encompasses sales and customer service. Business buyers have the greatest expectations, with 89% expecting companies to fully understand their business needs and expectations. This fact alone would explain the growing demand for and sophistication of sales roles.
Consumers are now firmly in the driving seat and it's up to businesses to provide the informed, real-time communication and level of service they've come to expect.
If you need to expand your sales team to meet this growing demand, Pareto have been recruiting and training graduates for sales roles for over two decades. We recruit for the full range of sales roles across all industries. Get in touch for a no obligation conversation about how we can support your business.