5 essentials to improve your staff retention rate
26 Jun, 2017
5 Minutes
The importance of staff retention can't be emphasized strongly enough. While recruiting ...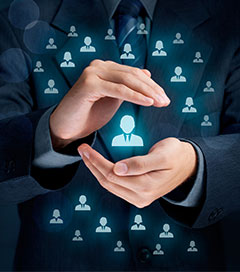 The importance of staff retention can't be emphasized strongly enough. While recruiting the right people for your company is a critical part of any business, retaining staff - especially your very best talent - is equally important.
Let's be clear - your recruitment strategy could be near perfect but if your best people are heading out of the door on a regular basis, it's more a case of one step forward and two steps back, as you're forever fillings gaps in your workforce rather than strengthening it.
Not only does such a state of play cause headaches for hiring managers, who can feel as if they're devoting far too much time and energy to searching through candidates, it can also have a negative effect on existing staff. After all, what's more unsettling than seeing colleagues leave? It can really chip away at morale and unsettle other employees.
If you're currently witnessing examples of this, it's definitely time to up your talent retention game. Here are some ideas to help you get there:
The financial cost of poor retention of staff
There's a financial cost associated with not retaining talent. HR Review cites research that reveals the cost of replacing members of staff is more than $30,000 per employee. That's drawn from a couple of factors – firstly, lost output while a newly-hired member of staff gets settled in and 'up to speed' and secondly the logistical cost of recruitment. In other words, the time and expense of the recruitment process, interviewing and then integrating a new employee. Clearly, keeping good employees saves money and can benefit your bottom line.
If you keep losing your star performers you need to ask yourself two key questions:
• Why are they leaving?
• What can you do to better improve employee retention?
Building a retention strategy

Staff retention should be at the core of your operation. Many companies implement employee retention strategies to manage and minimize staff turnover. Retention strategies essentially focus on the best way to retain employees, keeping them contented and happy - ensuring they feel rewarded, valued, challenged and nurtured.
The value of communication in retaining employees

If you know the answer to the first question - for there will typically be more than one reason for employees leaving - then you will be in a better position to feel confident about tackling the second. Communication is critical here. For HR managers, this is where the exit interview is absolutely invaluable. Interviewing departing employees on a formal basis, just before they leave, can provide a useful insight into underlying factors for unhappiness.
Free to speak completely honestly, an individual can not only discuss their own circumstances but also shed some light on other potential sources of tension. This is information that can be used to make improvements and adjustments to company culture.
Plan 1-2-1 sessions with employees

For managers, regular face-to-face meetings with team members – such as monthly 1-2-1 sessions - can pick off any rumbling issues before they escalate and become more serious. Far better to be aware of discontent while you're still in a position to do something about it than react when that resignation letter has been placed in front of you.
Retaining good employees is not always about salary

If you're pondering how to keep employees happy, consider this - it's not all about money. While salary and pay is always an important issue, money isn't usually the key point in understanding how to retain staff. Make sure pay is competitive and reviewed annually. Create packages that are in line with the industry standard and specific to the job's level. Ensure any promotions and subsequent pay rises are accurate, fair and transparent to keep salary issues to a minimum. Above all, avoid false promises. We surveyed graduates and found that they valued progression and training above renumeration. If you want to know what motivates the millennial and Generation Z employees hitting the job market then contact us to talk about how we can help your sales recruitment and retention efforts.
Ensure promotion opportunities are available

Opportunities for career progression should be clearly laid out and attainable if you want to retain talented employees. It's natural for employees to question their future after a few years in the same position. Ambitious staff need to feel challenged and are eager to reach their next goal which is ideal provided there is a next step. If there isn't, expect frustration at some point. If opportunities are available, make sure they are achievable - don't keep moving the goalposts and putting unreasonable hurdles in place as there's no quicker way to de-motivate and disengage someone.
Review company benefits

Understand what motivates employees and staff retention rates should improve. Review the benefits your company offers. A pension plan is compulsory and health insurance is a brilliant option but smaller incentives can make a big difference too. Monthly social events, in-house cookery challenges, at-desk massages, playing a team sport, office yoga and employee awards are all easy to introduce and inject fun and enjoyment into the working environment, making people enthusiastic about going to work each day and sending them home with a sense of satisfaction. Offering training and other professional enhancement opportunities is also something employees are becoming increasingly motivated by. Taking things to the next level, some companies set up bespoke training for their employees, contact Pareto for a free quote for your sales training plans. Why do employees stay with a company? Because they enjoy working there - it's as simple as that.
Make a difference

A final point - never underestimate the value of recognition. When was the last time you told a team member they'd done a good job? The likelihood is some people can spend months or even years of their careers working away diligently without so much as a word of praise. A simple and sincere 'well done' goes a long way.
If you need any further guidance in your sales recruitment and training efforts Pareto offer a range of recruitment and training solutions. Contact us today for a no obligation chat about your requirements.