How Pareto elevates female leaders to the top
03 Mar, 2023
5 min
In today's climate, the representation of female leaders is low. For example, the representa...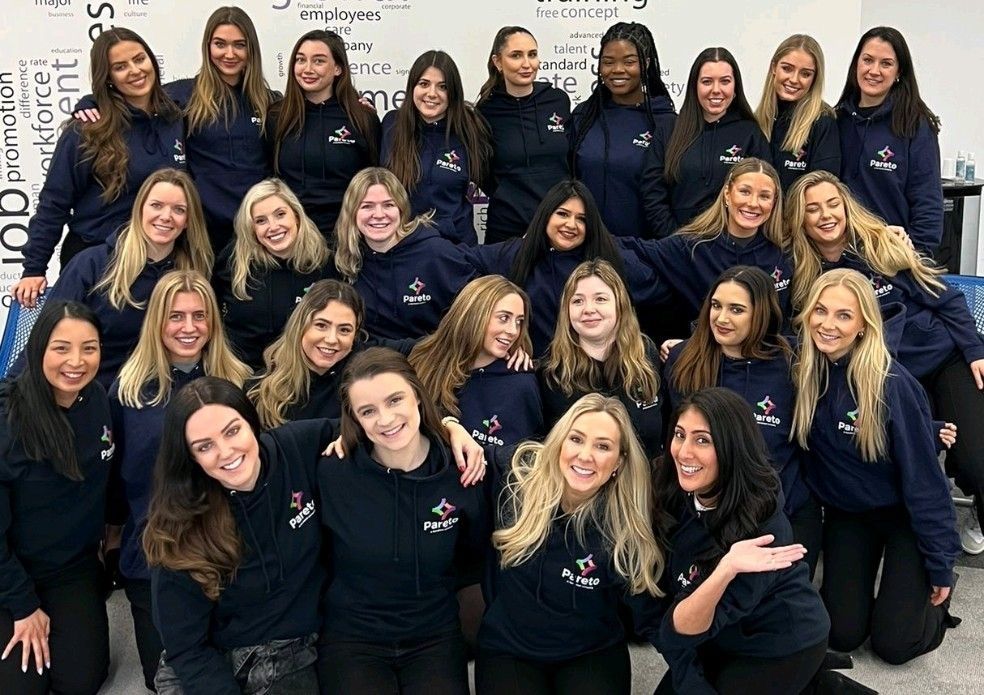 In today's climate, the representation of female leaders is low. For example, the representation of women in leadership stands at only 31% in the USA, according to the U.S. Bureau of Labor. So it's not only an issue of equality but a missed opportunity to utilize the talent of half the population.
Arguably, when it comes to gender equality in the workplace, the most significant factor often discussed is the gender pay gap. According to Forbes, female sales professionals in the USA in 2023 earn 45% less than their male counterparts. Additionally, male sales managers make a staggering 47% more than female managers. This gender pay gap must be addressed at all levels, from annual salaries to commission rates, to ensure equal pay for the same job.
Despite these low figures, a study by Xactly Corporation found that women make exceptional sales leaders. In addition, the study showed that women-led teams achieved higher win and attainment rates than those led by men. So, not only is it crucial to achieve gender equality in leadership roles, but it could also improve the performance of organizations. Therefore, it's time for businesses to step up and level the playing field for women in the workplace.
The UK win and attainment rate of sales leaders.

Unfortunately, the lack of representations of female business leaders results from a lack of diverse recruitment strategies, archaic stereotypes, sexism, and the gender pay gap, amongst other factors. This blog will delve into How we promote female leaders in the workplace. But before then, watch the video below and hear from two inspirational female leaders who have risen to the top at Pareto.
Hear from our inspirational female leaders
How we promote female leaders in the workplace
At Pareto, we've been championing female leaders in the workplace for over 20 years. Our commitment to diversity and inclusion has been crucial to our success, empowering individuals to reach their full potential. We believe that removing all barriers and providing equal opportunities is the key to driving women to the top of their careers.
But how can businesses promote female leaders effectively? We've asked our inspiring female leaders to share their firsthand experiences and insights. At Pareto, we walk the talk, and our approach to promoting women in leadership has proven successful for us - and it can work for you too. Our approach can enhance your team's performance, help you retain talent, and attract new hires.
If your business is ready to support and empower female leaders, look no further than Pareto's approach. Let us show you how to make a difference and drive progress for your company.
Assess for competencies
When it comes to recruitment, we at Pareto don't just focus on a person's resume, but also on their core competencies. We seek individuals with an innate desire and ambition to succeed, a hardworking mindset, and a passion for progressing in their roles. Take, for example, our Regional Director, Sarah Skelton, who embodies the work ethic instilled in her since childhood and has risen to the top of her field.
"My mum was 100% my biggest role model and my biggest supporter. (...)I've always grown up with that work ethic, and the more you put in, the more you get out. I think on top of that, she's taught me that you can go for whatever you want. There is no limit." - Sarah Skelton, Regional Director, Pareto
While we acknowledge the importance of technical skills, we believe that innate competencies, particularly those related to attitude and mentality, are crucial in developing successful leaders. According to our SVP of Sales, Gabrielle Crofts, anyone can achieve their goals with the right drive, attitude, and desire.
"If I was going to give my younger self a message, it would definitely be, don't think for a second that you can't have that job, and I would like every young girl to hear that message as well. There is no reason why you can't have that job, it's about your desire, your attitude and your drive. I really believe that." - Gabrielle Crofts, SVP of Sales, Pareto
At Pareto, onboarding and retaining individuals with the competencies we seek are vital to a business's success. Our female leaders, like Sarah and Gabrielle, exemplify how possessing these core competencies can help women progress in their careers and become successful sales leaders.
Embrace diversity and inclusion
It is crucial to eliminate any unconscious bias when hiring new talent. While evaluating factors such as first impressions, CV, personality, skill set, competencies, and cultural fit are all valid, it is not advisable to rely on a single group of individuals to determine who is the best fit for your brand.
To address this, your recruitment team and interview panel should consist of people from diverse backgrounds, departments, and levels of seniority. Different opinions can help you find the most suitable candidate for your business.
"My advice to any organization that wants to genuinely cultivate a culture that is equal and diverse is, first of all, to ensure that you have diversity in your interview panel, ensure that you've got diversity within your social media on your website and that you're celebrating women or any form of diversity to ensure that when people are applying, they can see people like them." Gabrielle Crofts, SVP of Sales, Pareto
It's crucial to assess how your company's brand portrays D&I online, including on your website and social media channels. It's essential to showcase how you're embracing these values across all your channels to potential candidates, as this can expand your talent pool and positively impact your business.
"Pareto has been a very inclusive organization for 27 years and I'm a big believer that our late managing director had a big part to play in that. We've always had female sales directors from the start, so there was no reason for women not to believe they could also have the top job." Gabrielle Crofts, SVP of Sales, Pareto
Support working parents
Another way we promote female leaders in the workplace is by supporting working parents. We value our female leaders and go above and beyond to help them when they are preparing to go on maternity, when they are away from the company and most importantly when they are looking to return to work.
Sarah was the first female leader at Pareto who went on maternity and returned to a part-time role. Her success in returning and delivering exceptional results in a part-time position pioneered how we support working parents.
"I think as I've developed in my career, I was the first female in the sales team to go and have a baby and then returned as not a full-time seller. Pareto was forward-thinking enough then to give me the opportunity to be part-time and continue in a sales role. And many women have followed suit. Sarah Skelton, Regional Director, Pareto
Your business can follow suit by accommodating the needs of your people who need to balance their occupations with their responsibilities as a parent. From providing flexible working hours, offering part-time work, and communicating with your people to understand and try to cater to their needs, there are many things you can do to support your working parents.
"Pareto is great at helping me balance being a businesswoman and a mum. At no point am I asked to compromise. I've got a great boss and great flexibility, and now I'm really proud that I'm able to help shape that for our working mums in our business, of which there are many." Gabrielle Crofts SVP of Sales, Pareto
Additionally, not only will you be supporting your working parents, but you will be increasing the likelihood of your working parents staying loyal to your brand, giving your employee retention rate a boost. Additionally, candidates often look for the benefits provided by an employer. If they see your brand promotes the support of working parents, they will be more inclined to apply to join your team.
Develop role models
When someone sees another person within the business who they admire professionally or can relate to, be it through their gender, ethnicity or background, this can be both inspirational and motivational.
As part of our attraction and retention strategy, we continue to develop role models. We have found that giving our employees a diverse range of senior people to look up to has enhanced the performance of our talent and given people the drive to climb the career ladder within our business.
"I think we've always had strong female role models, which are really important because you can talk the talk, but if you can't see people like you at the top, then you may lack the belief that there's the opportunity to get there." Sarah Skelton, Regional Director, Pareto
Our inspirational female leaders, like Sarah and Gabrielle, are fantastic examples of the current role models we've developed at Pareto. Their transformation into role models for our brand stems from the role models who came before them, and in turn, their influence will inspire the next generation of role models.
"I chose my career in recruitment because I saw so many powerful women leaders in the business, leading from the front, living incredible lives and I wanted to be successful as well." Gabrielle Crofts, SVP of Sales, Pareto
So, think about who within your business is a role model for your employees and think about the people who have the potential to become future role models for your brand. Ultimately, your current and future role models can play a significant role in the long-term success of your business.
Realize the potential of female business leaders
Now that you know how we drive female sales leaders to the top at Pareto, you can realize the potential of your female leaders within your business. As a market leader in growth and transformation with over 25 years of experience assessing the competencies of the top, diverse sales leaders, placing passionate people and training talent with potential, we know what it takes to promote female business leaders. So, if your business needs support with embracing diversity and inclusion or requires help finding the best female leaders on the global market, get in touch today.