6 Most Popular Job Training Sectors in the US
21 Dec, 2022
4 min
On the job training is a popular and effective way to introduce a new employee to what they ...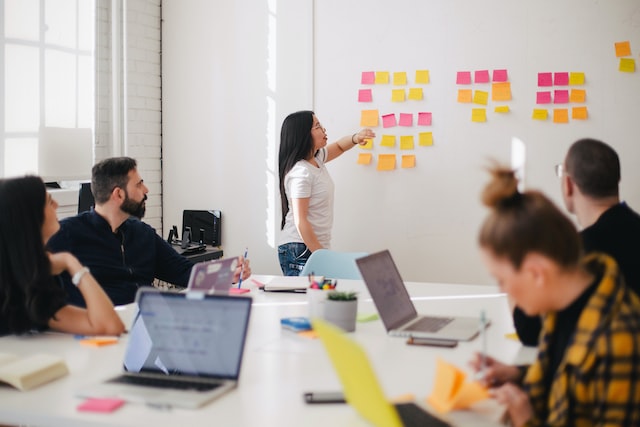 On the job training is a popular and effective way to introduce a new employee to what they will be doing on a day to day basis in an organization.
It offers a practical alternative to training seminars and classroom-based education, which may prove less ideal as productivity is sacrificed when an employee is away from their main role.
By engaging a trainee in on the job training, companies can boost productivity while ensuring the employee is more likely to retain the information and not require retraining further down the line.
For employees, on the job training provides an excellent way to familiarize yourself with the company and the role you'll be doing. As on the job training is so effective, you'll be able to find multiple opportunities across diverse industries.
Here are the most popular job sectors for training opportunities in the US.
1. Construction
As increased spending on everything from new roads to wind power generation is testing the ability of the private sector and the government to train enough construction workers, this sector is set for massive growth over the next few years.
A $1.2 trillion federal infrastructure bill was approved in 2021, meaning training programs will need to ramp up their efforts in order to train enough construction workers to fill the skills gap.
Today, the construction industry employs about 7.7 million people in the US. The Associated Builders and Contractors (ABC) organization estimates that the industry will need 590,000 new construction workers in 2023 alone to meet America's needs.
With that in mind, there has never been a better time to train as a construction worker. In a diverse and challenging industry, practical experience is vital to getting a foothold in this sector.
2. Manufacturing
Approximately 77% of manufacturers say they will have ongoing difficulties in attracting and retaining workers in the next few years, according to a Deloitte study. If this situation is not soon rectified, the manufacturing skills gap, which is now anticipated to leave 2.1 million jobs unfilled by 2030, may end up costing the US economy as much as $1 trillion.
Manufacturing, like construction, is a challenging and hands-on industry but one that comes with vast rewards. It is heavily invested in workplace development, and trainees entering the manufacturing industry can enjoy benefits such as on the job training and skills development to improve their career prospects.
This career path is suitable for trainees with strengths in science, math, and engineering, and those who would enjoy contributing to the development and release of American-made products.
3. Healthcare
Doctors, nurses, and surgeons are some of the professions where on the job training is used to develop an employee's competence, but the healthcare sector is much bigger than that. It provides one of the most diverse sectors in which to find training opportunities.
Not everyone has the time, finances, or educational background needed in order to enter medical school. However, many entry-level healthcare positions are available to supplement this vital service.
Dental assistants, pharmacy technicians, physical therapy aides, occupational assistants, and home health specialists all benefit from on the job training, which lets them gain the valuable knowledge they need to care for patients. When you embark on your career journey, you'll be working directly with vulnerable people to make them comfortable and help manage their conditions.
Healthcare is an intense, but immensely rewarding sector that anyone interested in on the job training should consider.
4. Postal Services and Delivery
Mail carriers and drivers make up a crucial part of the United States' infrastructure, helping to deliver packages and fulfill both business and customer needs on a day to day basis.
This sector is always hiring, with on the job training available to new hires to ensure they are able to perform the role to expectation and help keep the postal industry running. As you can imagine, the biggest employers in this sector include USPS, FedEx and Amazon.
When you are taken on as a trainee, you can expect to be trained in mail sorting, handling, and detecting hazardous contents, as well as being shown your route and how to scan and log deliveries.
Jobs in this sector are often physical, so you can expect to increase your fitness as you walk around local neighborhoods or explore new areas where you'll be making deliveries. Trainees need excellent awareness skills to deal with hazards such as traffic and aggressive dogs while on their route
5. Food, drink and hospitality
From hotels to restaurants, bars to spas, the hospitality sector is booming and in need of capable and enthusiastic trainees to take on a new career.
Waiting tables is a perennially popular entry-level position, which offers plenty of on the job training opportunities so you can earn a wage while you learn. You'll find out how restaurants are managed as a business, effective time management and staffing, as well as customer service.
On the other hand, bartending gives you the opportunity to exercise your creative side as you learn how to properly serve and mix drinks for a variety of customers. Expect on the job training here to be fast-paced, but potentially lucrative. Long hours are normally worked, but for those who feel drawn to this sector, hospitality can be a rewarding career in more ways than one.
6. Sales
As the Bureau of Labor Statistics projects 4.5 percent employment growth for sales representatives between 2020 and 2030, an estimated 59,400 jobs will be created in the sales sector.
This makes sales an extremely attractive option for those who want to enter a sector that combines practical, hands-on experience with communication and digital skills.
Sales representatives sell goods and services to businesses, government agencies and other organizations, instead of directly to consumers. When you opt for a role as a sales representative, you'll get plenty of practical training to ensure that you communicate the brand value of your organization effectively. You'll also learn how to close, defeat objections, and follow up to make the most out of every interaction.
This is traditionally a sector where commission on each sale is paid out as well as a base salary, so the expectations are to work hard to earn bonus rewards. If you have the skills necessary to succeed, you may find sales is the perfect area for you to work in.
For employers, bear in mind that ambitious salespeople will expect to get access to career progression opportunities. If you don't provide ongoing training and progression, your best players might feel the need to move on to a company that does. Keep them motivated to reach even bigger goals by offering training on a long-term basis.
Train with Pareto
With 25 years' experience in sales training, Pareto offers the knowledge and expertise you need to succeed. We help businesses reduce ramp time and increase retention, while helping trainees to realize their true potential. Get in touch to find out more.