Pareto wins top recruitment company for graduates!
24 May, 2016
2 Minutes
Pareto have placed 34th out of 100 companies shortlisted for Best Company for Graduates to W...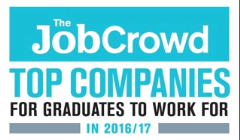 Pareto have placed 34th out of 100 companies shortlisted for Best Company for Graduates to Work For, beating some notable global companies including Jaguar Land Rover and John Lewis as well as our own previous position from last year. We also came first in the Recruiter sector category.
What makes us different?
Pareto staff not only benefit from a whole host of rewards associated with a career in the sales and recruitment industry, but the best incentives schemes including company holidays to the likes of Las Vegas, Dubai and Monte Carlo. This is alongside the opportunity to receive a company car upon promotion and a whole host of excellent progression and commission opportunities.
At Pareto we also pride ourselves on our unique company culture, and our 'work hard play hard' ethos that really does help to get the best out of our staff. Pareto employees are treated to regular social events and nights out, as well as themed weekly cold calling days, ensuring no two days are ever the same at the office.
For fresh graduates coming into the business, they experience unique exposure to the sales and recruitment industry straight from inception. This is because our graduates work alongside those who have a portfolio of success in the sales industry, ensuring they can learn from the best and call upon them for advice to help them get ahead in their career.
So if our latest JobCrowd win has taught us anything, it's to never underestimate the importance of investing in your employees. By offering the best perks in the business there's many advantages for both employees and employers, all of which will create a positive working atmosphere. And with offices across the UK and now our latest international office in the US, one things for sure, there's no sign of us slowing down!
Think you could be made for Pareto? Apply with us today!