How to hire a marketing director to boost your business
19 May, 2023
5 min
Marketing directors are essential to the marketing operations of a brand and the enhancement...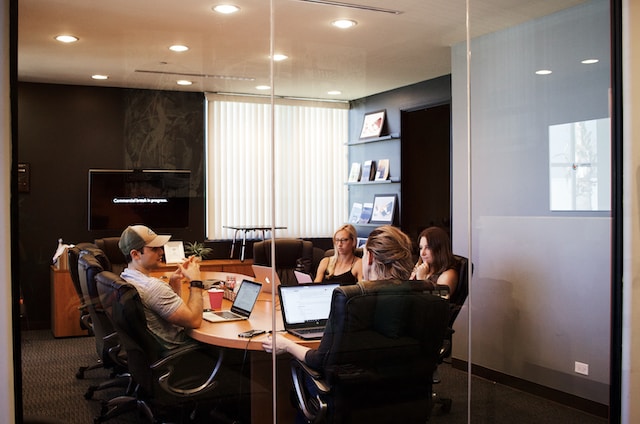 Marketing directors are essential to the marketing operations of a brand and the enhancement of a business. They can be found working in a multitude of industries for companies of various sizes and can be pivotal in helping organizations realize their potential. But how do you hire them? In this article, we will show you how to hire a marketing director to boost your business, including when the right time to make a hire of this level is and other important aspects to consider in the hiring process. Before we go into all that, let's start by answering the question - what does a marketing director do?
What does a marketing director do?
Otherwise known as a director of marketing, a marketing director plays an essential role in establishing and developing a brand. They use their marketing expertise to create innovative campaigns and strategies to increase brand awareness, engage with clients and customers through lead generation and ensure the existing target audiences remain loyal to the brand.
A director of marketing will often have the transferable skills to adapt to any brand in any industry and will have a deep knowledge of the products and services a brand offers. Additionally, they will analyze and research the latest trends within the brand's industry and incorporate these into their strategies.
Marketing directors will produce promotional content of various formats across various channels and ensure all brand outputs are consistent with the mission, vision, and values. In addition, they work with the broader marketing team and make sure all marketing campaigns and strategies have a clear focus and are aligned with the brand's goals and objectives - often to increase the profitability of a business and brand recognition.
When to hire a marketing director
Knowing what a marketing director does is an important aspect for any business to understand when looking to hire a marketing director. Still, it's also just as important to know when to hire a marketing director.
Below are several reasons why it might be time for your business to hire a director of marketing.
The current head of marketing in your business requires further support to manage the wider team and the campaign outputs
Your CEO or managing director lacks the knowledge of marketing and requires expertise within this area to take the business forward
Your headcount has reached a figure, for example, 80+ people, and hiring a marketing director makes sense and is within budget
You need someone to better align your brand strategy with the goals and objectives of a company
Your business is in the process of launching new products and services
If your competition begins to outperform you
You want to engage with a new customer base and focus on lead generation
You don't have a marketing director leading your marketing team but are looking to grow the department
Your current marketing director is about to go on maternity, is taking a sabbatical, or will be away from the business for a set time period
We will explore how to hire a marketing director later in this article - in our where to find a marketing director section. But, before then, let's look at some of the key considerations to make when hiring a marketing director.
What to consider when hiring a marketing director
Now we've established when to hire a marketing director; it's also critical to take into account some considerations before pursuing your future employee. From the skills to look out for and the responsibilities you'd want your director of marketing to carry out to writing job descriptions that engage with the candidates you want to target - let's explore what to consider when hiring a marketing director.
Marketing director skills to look out for in candidates
Of course, when your business is looking to hire a marketing director, you want to ensure you onboard the best talent within the market. To make sure you bring the best people into your company, you should look out for specific skills that any top director of marketing will have. We've created a list of these top marketing director skills to help you better understand what to consider.
A great sales mentality and analytical mind
Deep knowledge of marketing
An outstanding ability to plan, develop and implement marketing campaigns and strategies
A fantastic ability to sell a brand's products and services to new and existing buyers
Superb leadership and management skills
Excellent interpersonal communication skills
Strong ability to utilize CRMs and computer software
Great attention to detail
Hard-working with an ability to motivate and get the best out of others
An ability to problem solve and use initiative
What are the responsibilities of a marketing director?
Another important consideration when hiring a director of marketing is to outline the responsibilities of the candidate you want to onboard. Determining what your future marketing director will be accountable for is crucial, so you and your next hire are on the same page regarding the job role. Like the above skills section, we've listed some of the typical responsibilities of a marketing director.
Create strategic marketing campaigns to support the growth of a brand
Liaise with the broader marketing and sales team on marketing strategies
Oversee the outputs of a campaign
Lead marketing strategies from start to finish
Communicate and manage relationships with internal and external stakeholders
Understand the vision and objectives of a brand and align strategy with this
Manage the budgets for campaigns
Research and stay updated with the latest marketing trends
Analyze data regarding the outputs of a strategy and ensure campaigns are on track
Support with the hiring of future members of the marketing team
Write an engaging marketing director job description
When hiring a marketing director, one final consideration is to write an engaging marketing director job description. Marketing directors are sought-after, and the top candidates will have no shortage of opportunities to select. Therefore, you must ensure your job description stands out and attracts the professionals you need to boost your business.
Here you can incorporate the skills and responsibilities you're looking for in your desired candidate and the required experience level. Additionally, you should ensure to go into detail to sell your company as a great place to work, including the benefits, bonuses, and culture, while promoting your offering as an opportunity the candidate must take advantage of and will be quick to apply.
Examine a candidate's marketing director resume
Once your engaging job description is live for the world to see and you start attracting candidates, it's important to examine each candidate's application and resume. Ultimately, these candidates have the potential to lead your brand or the brands you partner with in the future, so you must take the time to determine who you want to shortlist and interview for the marketing director job.
You should look at the candidate's relevant experience, businesses and industries they've worked in and decide whether they would be suitable for the position. Also, consider how they've presented their resume, whether it is concise and to the point, and does it read well. These may seem obvious considerations, but they are important nonetheless and will ensure you have the best shortlist of interviewees possible.
Think about your marketing director interview questions
Now you've clarified who you want to shortlist for an interview, it's important to consider the questions you want to ask your future marketing director. Certain open-ended questions can be tailored to the specific questions, asking them about the experiences they've noted in their resume. Additionally, you should ask the candidate what attracted them to the role, consider whether they have the skills suited to the job, and understand the responsibilities of the position. Importantly, you should determine whether the candidate would be the right cultural fit for your business.
Here are some questions you could ask your marketing director candidates:
What is your biggest achievement in your marketing career and why?
Do you specialize in a specific area of marketing?
How would you measure the effectiveness of a marketing campaign?
What's the biggest challenge you've faced in your marketing career, and how did you overcome this?
What would you improve about our current brand or the brands we work with?
How would you ensure a campaign aligns with the goals of a brand?
What will you do to get the best out of the marketing team?
How will you use marketing to establish, develop and grow client and customer relationships?
When interviewing candidates, ensure you have a diverse interview panel. Additionally, you could ask the candidate to complete a marketing-specific task or presentation beforehand or at a second-stage interview to further establish whether they are the right person for the role. Once you've determined who you want to hire, you can onboard your new marketing director into your business and watch the results come your way.
Where to find a marketing director
When looking at how to hire a marketing director to boost your business, there are plenty of things you can do to find the best person to take your brand to the next level. From utilizing job boards and networking to contracting and partnering with marketing recruitment agencies, here are three ways you can find a director of marketing.
1. Utilize job boards
Referring back to our section focused on the importance of writing engaging job descriptions, you should post your vacancies on job boards. From the likes of Glassdoor, Totaljobs, and Indeed, traditional job boards can be a great tool to help attract candidates to your company.
While being a valuable place for finding marketing directors, job boards are also helpful for seeing what roles your competition is posting and how they've presented their job descriptions. You can use this insight to better target your posts at the candidates you want to attract.
2. Look at networking
Networking is another great way to find a director of marketing to help your business reach new heights. For example, you could engage with your existing list of contacts your internal talent acquisition or HR teams has access to and see if they would be interested in the position. This could be people who have worked as a marketing director in the past, currently work in the role for another company, or an existing employee with the transferable skills to shift into the director-level position.
You could also utilize social media platforms like LinkedIn to engage with potential candidates or join relevant social groups to get talent recommendations and attend networking events to see what talent is on the market. Similarly, you could set up a referral scheme and ask your existing employees to utilize their networks to find talent to amplify your business.
3. Partner with marketing director staffing agencies
Our third way to find a marketing director is by partnering with a specialist staffing agency. If your internal recruitment team needs additional support or your business doesn't have the resources to find talent, then a recruitment firm is the perfect solution.
Executive recruitment agencies will have the expertise to help you find the best talent on the market. They will work closely with you to determine the type of marketing director you want to hire, from contractors to permanent hires, and the skills and responsibilities you need to fill to the cultural fit you're looking to attract. Executive recruiters will utilize their connections and talent pool to match you with the best fit to help you overcome your hiring challenges. They will support you through the whole recruitment process, from the screening and interview stages all the way to the onboarding stage.
Hire a marketing director with Pareto's executive search
If you are looking for a director of marketing to boost your business but require further support with how to hire a marketing director, we can help. With over 25 years of global experience amplifying organizations with top talent, discover how our executive search solution and executive sales roles can empower your potential today. Alternatively, contact us now to see how we can best support you.