Pareto celebrates employee satisfaction success!
07 May, 2015
2 Minutes
The UK's leading sales recruitment and sales training specialists ranked 46th on t...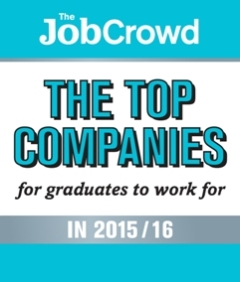 The UK's leading sales recruitment and sales training specialists ranked 46th on the list which is powered by TheJobCrowd.com. The list is compiled by honest reviews by graduate employees of the business who rank the company in several categories including work life balance, company culture and progression opportunities.
Pareto's graduates praised the rapid progression opportunities, continual professional development and the competitive salaries that are also injected with challenging but rewarding incentives.
Chief Executive Officer of Pareto, Jonathan Fitchew said about the recent award: "We are delighted to have been featured as a top company for graduates to work for. I'm especially pleased about this as the list is created based on honest reviews from our graduate employees. This means that our employees are willing to openly compliment and sometimes criticise us to ensure that we get things right for our staff."
Being featured as one of the 'Top Places for Graduates to Work 2015/2016' is not the first award Pareto has been given for their dedication to their employees. The North West-based organization has won 'Sales Recruitment Agency of the Year' at the National Sales Awards and have also previously been one of the 'Times Top 100 Companies to Work For.'
Pareto prides itself on it's employees and looking after them – this mantra has been famously dubbed, 'The Pareto Culture'. With annual trips abroad to destinations such as Dubai, Monte Carlo and Spain, themed dress-up cold calling days and an approachable work force, Pareto has become successful because their employees are driven and eager to work hard and equally play hard.
Pareto is the UK's biggest and most successful sales enhancement company: the authority on sales, no less, since 1995. Pareto brings companies the 20% of the sales team that makes 80% of the difference.