7 tips to beat the sales skills shortage
08 Sep, 2017
5 Minutes
Anyone who knows anything about sales will know that the role has changed dramatically in th...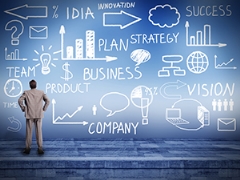 Anyone who knows anything about sales will know that the role has changed dramatically in the last decade or more, with even the most traditional industry consumers now expecting a far greater level of expertise available when making a buying decision. The wealth of information now available online and the complex buying processes to navigate mean clients are now more discerning than ever about who they do business with and what they invest in.
If sales professionals are going to keep up, they almost need to be an expert-level consultant, which is why pre-sales is also a rapidly expanding function. There is a huge demand for great salespeople and businesses might struggle to find the skills their customers now demand.
We've compiled 7 tips to help you and your sales team keep up
These are 4 of the most fundamental principles in sales, honing these skills is paramount to squeezing every little bit of opportunity from your sales operations.
Refine your prospecting skills – Are you waiting for the prospects to come to you? Or relying on that base of existing clients? Then you're not actively prospecting. You need to go the extra mile to be positive, proactive and bring in those exciting new leads. It could take just that one cold call to bring in a healthy chunk of revenue so the current climate is no place to be shy – carpe diem! Seize that day.
If you do a lot of your prospecting by telephone, our Live Telephone Selling course can help you refine all those key skills you need to be successful.
Knowledge is power – As we've already touched on above, client expectations have changed dramatically since the internet took over as a source of intel. For many customers, a simple inability to answer a technical question about your product might be enough to switch them off. Don't let that happen. You need to learn what you're selling inside and out, and preferably all the competing products and services too. They want to know why they should spend that extra cash on what you're selling rather than your closest competitor. Be ready with an informed answer.
Our Professional Selling Skills course goes into depth on how to upskill, cross-sell, upsell and diversify among many other advanced sales techniques.
Getting to know you - It's not just your products and services that you need to wrap your head around. Getting to know your client and their business needs is vital. You also need to win over the key decision makers, understand their buying process and a multitude of other challenges. Do your research and make sure you listen to everything a prospect has to say. What are their business needs? How can you support them and make their life easier? A solution to a problem is always more appealing than a tool, even if it is just a question of terminology.
While Professional Selling Skills also covers research skills, this is a requirement which can vary dramatically by industry. For a tailored approach, we have a Bespoke Sales Solutions department of highly experienced sales professionals who can consult with your sales leaders to establish what support your business needs.
The art of negotiation – There's a reason that there are professional negotiators and we'd argue that the best sales professionals fall into that category themselves. Selling is often one long, complex negotiation which can take from hours to months depending on the client so good negotiation skills are key. Need to adjust pricing? Good negotiation could help you to minimize impact on your margins.
Our Negotiation Skills open course is one of our most popular sales training options. To make sure you're a team of skilled negotiators, revisiting those skills is never wasted effort.
Need to take more decisive action? We can help.
In the current economic climate and in light of a growing skills shortage, finding strong sales talent is only going to become more challenging and therefore, expensive. There are a number of options available to companies who recognize that they need to grow or develop their sales teams.
Recruit fresh talent
Now is definitely the time for companies to prioritize sales operations at all costs. As formal training in the sales profession is a brand new opportunity, the quick and reliable way to ensure you recruit the best people is to use an expert sales recruitment company like Pareto to source graduates and then provide training as quickly as possible.
Bring in the pros
A costlier but far quicker solution is to add seasoned sales professionals to your team. Whether it's a new Sales Director, Manager, Team Leader or Executive, adding proven talent to your sales operation is always a worthwhile investment. If headcount is an issue, this can also be done through bringing in contractors.
Pareto's executive division can help you find the perfect candidate to complete your team.
Train existing staff
If you're not in a position to recruit or if you feel your current team just need a boost, then professional sales training could be a great option. From social selling and proactive prospecting, to complex negotiations skills, Pareto has both open and bespoke courses which can hone even the most experienced salesperson's skills.
Beyond all the above, Pareto's expert sales consultants can assess your current performance and find the solution which will deliver measurable, proven results for your business. Contact us for an informal discussion of what we can do to help your business keep up.
Are you looking for ways to grow and improve your sales team?
Download Pareto's '10 Steps to Building a Successful Sales Team' guide to see where you could optimize your sales team and unlock further potential. Our guide provides recommendations from Pareto's 25-year experience in assessing, placing, and training top sales talent.