Game, Set, Match. Coco's Victory. | Pareto
09 Jul, 2019
6 Minutes
Cori Gauff was born a Gen Z member in Atlanta to the sound of Usher feat. Lil Jon and Ludacr...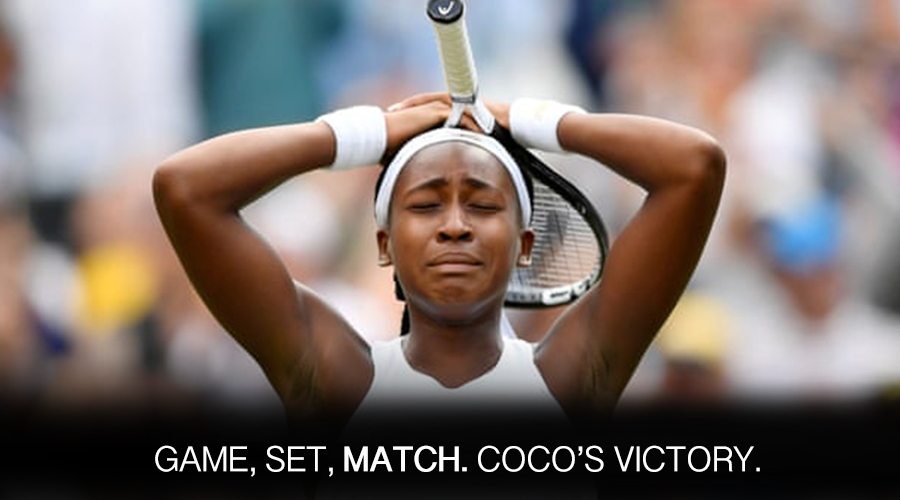 Cori Gauff was born a Gen Z member in Atlanta to the sound of Usher feat. Lil Jon and Ludacris - 'Yeah!' at Number 1 in the US in 2004. Nicknamed 'Coco' she found a love of tennis at six-years-old with her father as her head coach.
At only 15, when Cori Gauff found out she had been given the 'Wild Card' to play at Wimbledon just over a week ago, it's fair to say that she had no idea of what was to come. Not only would she get her wish of being drawn against one of her tennis idols Venus Williams, but she would go on to stun the world and win her debut match in straight sets against the former five-time Wimbledon champion. Cori went on to win her next two matches to carry on her incredible debut, before finally being defeated by Simona Halep (Former World Number 1) to end her incredible, unexpected winning streak.
Today we are focusing on her determination, focus and the fierce application that she has shown to get as far as she did in the competition and warrant the whole world talking about her. Coco's win against Venus Williams meant she became the youngest tennis player to win a match at Wimbledon since 1991. Undoubtedly a phenomenal start to her career, her first win set up the expectation for her to one day become the best in the world.
Tennis legend John McEnroe said:
"I look at the way she plays. If she's not number one in the world at age 20 I will be absolutely shocked."
So, how did Coco cope so expertly with such enormous pressure on her shoulders at such a young age?
Gritty self-belief and tireless hard work were defining factors in helping the young star keep her cool on the pitch to ultimately outperform her idol.
Primed for success
Since the young prodigy made her way onto the tennis court at 6 years old she has been earmarked for greatness. She trains at Mouratoglou's Tennis Academy (the same one as the Williams sisters). Mouratoglou said before her win on Monday that from the first moment he met Cori Gauff, he knew she was special.
Mouratoglou recalled:
'I remember when she was 10, she was looking at me in the eyes and said, "I want to be No. 1 in the world". You could feel that she was really believing it. I remember that was really strong, it was a strong moment […] if I have to say what's the most important thing? Number one, she's an incredible competitor. Their job as tennis players is to win'.
Coco said after winning the match:
'My goal was to play my best. My dream was to win. That's what happened'.
Age and experience were no obstacle for Coco. While Venus had years of skill behind her and a proven track record at Wimbledon, Coco had natural talent a competitive edge. Coco knew her job was to walk onto that pitch, perform and walk back off as a winner – so that's what she did. She went on to perform twice more just like this.
Is Coco a product of Generation Z?
Gen Z are defined by their confidence in their abilities and hunger for success. Coco said from the very start: 'I want to be the greatest'. This resolute self-belief is what has set her apart. Despite the odds being against her in the game - she was up against a superior player and a seasoned Wimbledon veteran who knows the ropes - she still fought with the attitude that she could win.
As Gen Z talent spills out beyond the tennis court and into the workforce it's fundamental to realise the potential of this new digitally savvy, driven generation.
Barna research found that 43% of Gen Z felt that Professional Achievement was critical for their sense of self. This is higher than every other preceding generation that has come before them. Furthermore, 65% of Gen Z candidates ranked becoming financially independent as number 3 on their list of priorities before age 30. This is 15% higher than Millennials, their predecessors who, until now, have been seen as the most driven generation.
The dedication, drive and dynamism of this generation cannot be ignored. When this is combined with the right training and support, exceptional results can be accomplished.
What if, like Coco, you could seek out the future leaders of your business?
Here at Pareto we meet future leaders all the time. We can spot potential and we know that age and experience in sales doesn't always equate to achievement. With the right training, brand new talent can become outstanding and go on to exceed those with more experience in role. Coco's performance in her 3 winning matches reminds us all too clearly not to forget about the underdog.
Without intensive training Coco wouldn't have been able to take on Venus and win. We know that natural talent might make up 80% but that 20% requires support to become truly exceptional.
So, how can Pareto take your sales players to the win?
Our grads to great's stories offer shining examples of the Pareto process in action. Adanna Welch, one of our Pareto trained graduates, began her career after being selected by Pareto with no industry experience behind her. Adanna has now gone on to achieve true greatness after her training experience with us. She has been promoted an impressive 6 times in 6 years to now become the Head of Tech and SCM for Partner Markets for Vodafone.
Recently, we celebrated 5 of our star graduates who have all shown the same combination of natural talent and the drive to succeed and win as Coco. We've placed graduates who have finished the year at 137% annual target in their first 12 months in role.
Not only do we train and find the very best graduate talent, but our Bespoke training solutions can turn an 'underdog' sales team that is underperforming into a competitive industry player that can compete with the very top names. Take our work with Aggregate Industries. Our intensive training sky-rocketed their ROI taking them from a 10% to a 40% conversion rate on meetings resulting in a £12million increase in turnover that year.
Watching Cori Gauff defeat a tennis superstar in her debut match at Wimbledon was awe-inspiring. Watching her hold her own in her next two matches was extraordinary, and like the rest of the world we can't wait to see what she does next. Here at Pareto, we're passionate about sourcing inspirational new talent that will fast-track their way to the top.
Game, set, match. Get your business to the top of its game with Pareto.
If you want to see what fresh talent could do for your business with the right training behind them, then you need our Graduate Recruitment Team.
Feel like your sales team could do with an injection of self-belief and a competitive edge? Our Bespoke Training Solutions can fast-track ROI for your business.
Get in touch on 917-397-4059